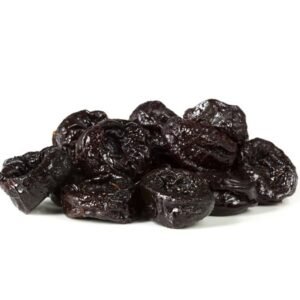 Gourmia Dried Prunes & Cranberry Combo 400g (2 X 200g)
Best quality product from the house of Gourmia.
Best quality Prunes sourced from California, USA. Best quality Cranberries sourced from USA.
Prunes are high in potassium that helps to lower blood pressure which may reduce the risk of heart diseases.
They are the Powerhouse of fiber and antioxidants. Rich in vitamin A, prunes are good for eyesight. They help to keep blood sugar level stable.
Dried Cranberries are a high source of fiber.
They have one of the highest concentrations of antioxidants of any fruit.
The nutrients in Cranberries have been linked to reduce risk of urinary tract infections. Improves immune function and helps decrease blood pressure.
Storage Information- Store in cool and dry place in Gourmia Zipper pack.
Gourmia Dried California Prunes and Large Whole Cranberries combo are super food which have many health benefits. They come in combo pack. No artificial color which makes prunes & cranberries a healthy snack option. You can add them in the morning cereals for extra taste and health benefits. They are not just delicious but also have many health benefits for the body, so whenever you want a quick and tasty snack or to add something fruity to your food, grab Gourmia dried California prunes and cranberries. They are enjoyed by children and grownups alike. Cranberries have one of the highest concentrations of antioxidants of any fruit. They are also an excellent source of many important vitamins and nutrients, including vitamin C, manganese and fiber. Prunes are good source of vitamin K and beta-carotene that reverse the signs of aging by reducing bone loss and improving circulation. Prunes are surprisingly packed with fiber and a powerhouse of vitamins and minerals, including potassium, iron and retinol. "Prunes are rich in vitamin K and contain beta-carotene. Each prune (approx. 9.5 g) offers about 23 kcal and 0.7 g of fiber.
Gourmia is a premium flavored nuts and dry fruits brand. Gourmia has pioneered a new and yummy way to consume the daily dose of healthy nuts and dryfruits. At Gourmia, we bring the taste and health together in a single pack in the finest of packing. We believe in serving the best products to our customers and hence we travel across the world to procure the finest nuts and dry fruits. Our products are processed and packed in FSSC: 22000 & HACCP certified plants – The best among food safety ratings and certified by 'FSSAI'.
| | |
| --- | --- |
| Weight | .400 kg |
| Dimensions | 10.26 × 7.05 × 1.56 cm |